GotG Deck Strategies
Deck Recommendation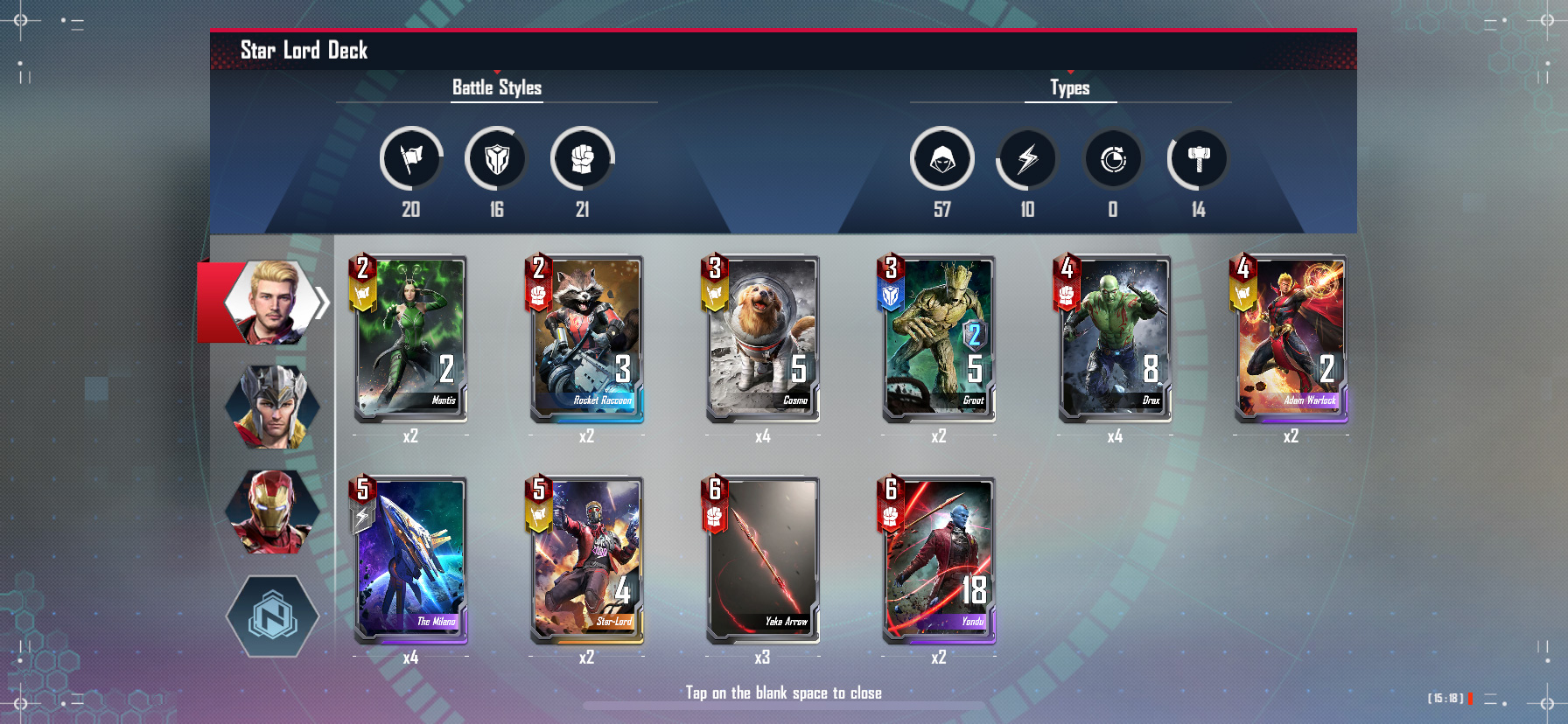 Strategic Assessment
GotG Deck Basic Strategy:
Defeat opponents quickly with a enhanced Drax or Rocket Raccoon, and let Star-Lord make the whole team more powerful.
Pros:
Good at offensive attacks after the front line is built up. Defeat important opponents can quickly win you the battle.
Cons:
Needs to defeat opponents to start the deck working, can be countered by characters with high Armor.
Low chance of getting back from a low spot.
Early to Middle Stages
If you can get [Rocket Raccoon] or [Mantis] in the first two turns, you can aim for the GotG strategy, and begin to boost [Rocket Raccoon].
You can also consider go into GotG if you see [Drax] or [Adam Warlock] within two turns after your Shop reaches Lv.4. Play [Cosmo], [Abomination Charge], [Falcon] and [Drax Assault] to boost up the power of [Rocket Raccoon] and [Drax] to defeat opponents quickly in combats.
Late Stage
[Star-Lord] can be purchased from the Lv. 5 Shop.
Find [Star-Lord] as soon as possible and bring him to Star Level 2. He can greatly enhance the advantage GotG has in battle!
You can also purchase [Red Hulk] to boost [Rocket Raccoon] and [Drax] even more.
Ideal Front Line
Drax: Give him [Yondu's Arrow], use his strong attacks to trigger the Defeat skill multiple times.
Main card no.1. Drax should be 2 or more stars and have high Power.
If you don't have [Yondu's Arrow], other equipment like [Hawkeye's Bow] works too.
Gamora: Give her [Godslayer] to quickly strike down opponent's weak points.
Main card no.2. A strong counter for opponent's powerful Support characters.
Yondu: Give him [Yondu's Arrow] to sweep opponent's board.
Whenever your Character defeats an opposing character, he can deal a lot of sweeping damage.
Adam Warlock: Give him [A.I.M. Energy Missile].
He is the core power booster for your front line. Get him as early as possible.
Star-Lord: Give him [Ghost's Suit].
He works as the supporter of the team, triggering [Drax] and [Gamora]'s Defeat skill repetitively.
If you can't get [Ghost's Suit], you can give him other Support Equipment.
Red Hulk
He provides a Power buff aura, boosting the Power of [Drax], [Gamora] and [Yondu].
Singles
Drax: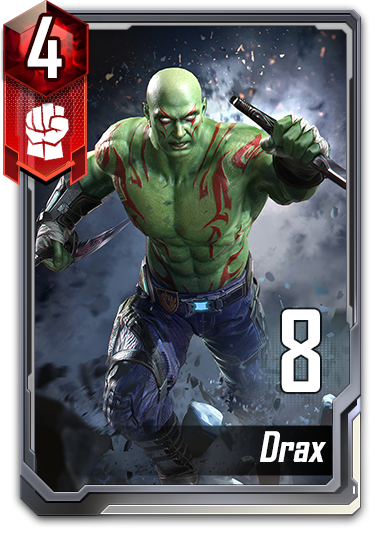 The main combat force in midgame. Upgrade him to Star Level 2 to get more value.
During the Preparation Phase, you can use [Cosmo], [Falcon] or [Yondu's Arrow] to boost Drax's Power; during Battle Phase, the same for [Red Hulk] and [General Ross]

Rocket Raccoon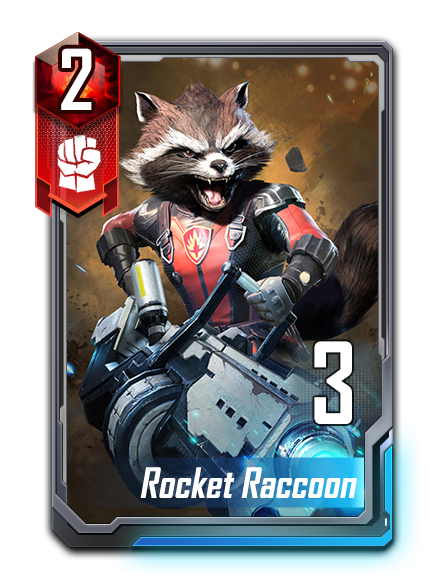 A less powerful [Drax] alternative.
A Star Level 2 Rocket Raccoon has great combat capability in early game. If you raise him well, he should be prepared for the late game.

Adam Warlock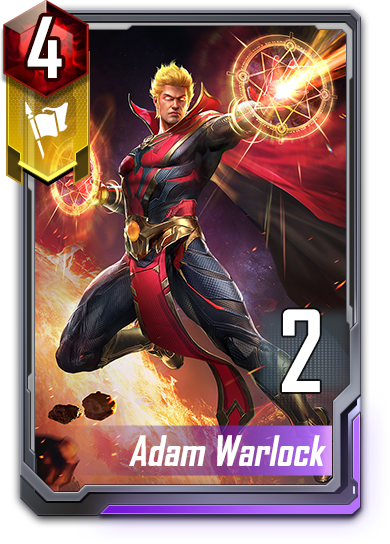 A high-efficiency Power booster of the GotG deck, but the condition to trigger his skill is rather strict.
Play him with [The Milano] Pow Card, and use that one turn's victory to boost the whole team.

Mantis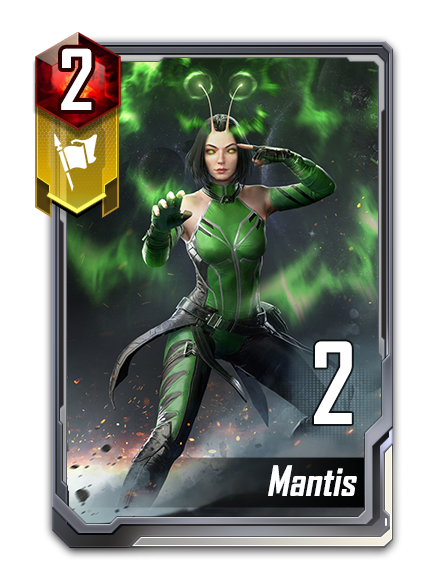 An early game alternative for Star-Lord.
While the GotG Characters are not that strong in early game, she can help you defeat stronger opponents.

Groot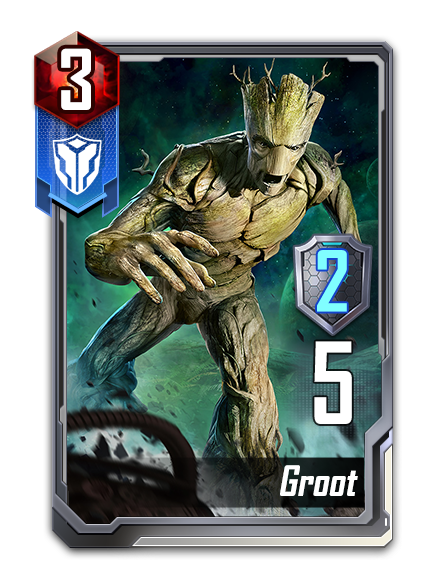 Get him quick enough and keep raising him, he can be a trusty shield for other GotG characters.